Custom Cribbage Board for Your Home or Business
Website Admin
Custom Cribbage Board for Your Home or Business
Our custom cribbage boards are made of wood and feature a unique design. They come in different sizes and colors so they look great anywhere in your home.
Custom cribbage boards are a fun way to add personality to any room in your house. These wooden boards are available in many shapes and sizes, and they're easy to customize.
Choose from our wide selection of designs.
You can choose from a variety of styles, such as traditional, modern, rustic, and more.
Select the size and color you like best.
If you need a cribbage board for your home, office or business, we make them available in various sizes and colors.
If you want to create a unique cribbage board, you can choose from several different options. You can select the shape, size, and color of your cribbage board.
Add your personalization.
We offer several customization options when ordering your custom cribbage board. You can add your name, company logo, or any other text you would like.
If you want to create a unique cribbage board, you'll first need to decide what kind of design you'd like. You can choose from a variety of different designs, such as a simple geometric pattern, a classic checkerboard, or a modern abstract design. Once you've decided which style you prefer, you can then select the wood type and color. For example, if you want a dark brown board, you could go with cherry, maple, mahogany, or walnut. Or, if you want a light gray board, you could opt for k. After you've chosen the wood type and color, you can then order your customized cribbage board online.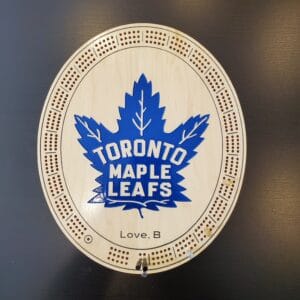 Order online today!
You can order your custom cribbage board online by visiting our website at https://theoriginalworkshop.com/product-category/games/cribbage-boards/
Also check out our Post on Cribbage Rules as well!